intensive 2-month English course

with Veronika
- The most Insta famous English teacher in Canada 🇨🇦
⁃ Helped over 10,000 students become fluent in English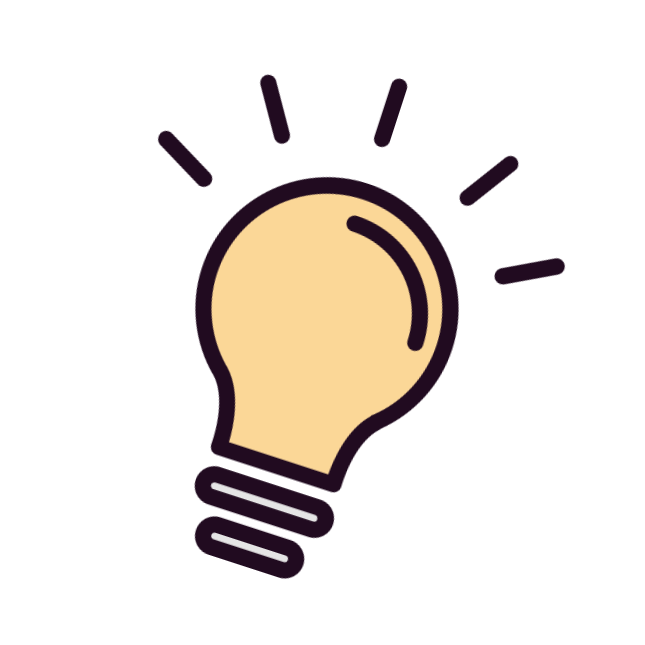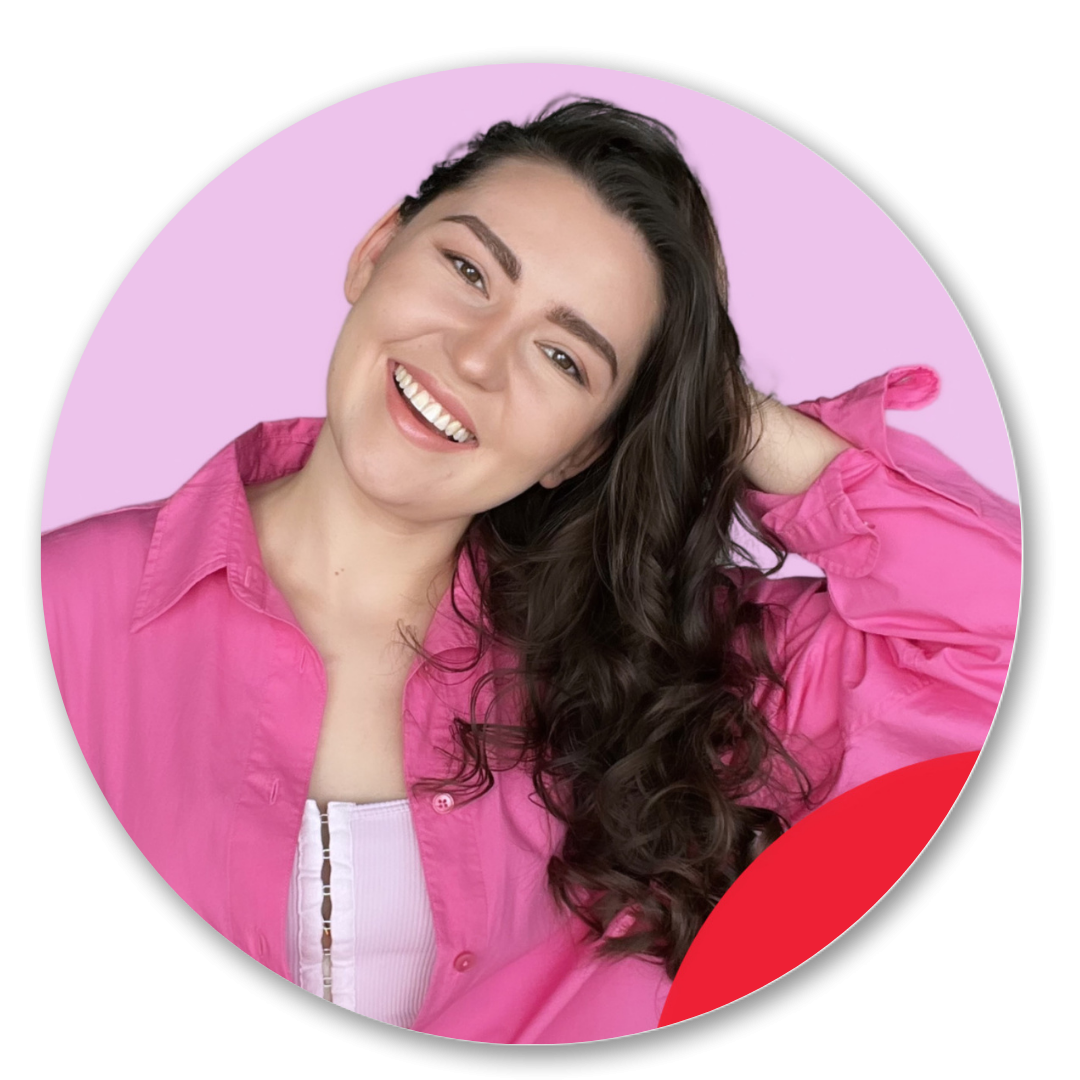 ⁃ 9 years of experience teaching students from over 35+ countries
⁃ Bachelor's in Teaching English as a Second Language
360° language learning experience
The ONLY course on the market that offers 360° integrated learning, helping students connect grammar, vocabulary and speaking to become fluent

Only real-life English


All the grammar and vocabulary that is taught in the course is ACTUALLY used by native speakers on a daily basis

Tons of speaking practice

1,350 minutes of speaking practice in Premium and VIP groups with a TESOL Canada certified English teacher in a friendly and supportive environment!

Stress-free progress

The course structure ensures a smooth, painless transition from the level Intermediate to Advanced

This course is perfect for YOU if…..
You want to sound professional!
You've been studying English for 5-10 years, but you still "sound like a baby"? In this course you will gain confidence and start sounding professional!
You want to get a job in an English-speaking country!
You recently immigrated to another country and you are looking for a job? In our English Bootcamp, you will learn all the necessary grammar and vocabulary to succeed in a new country!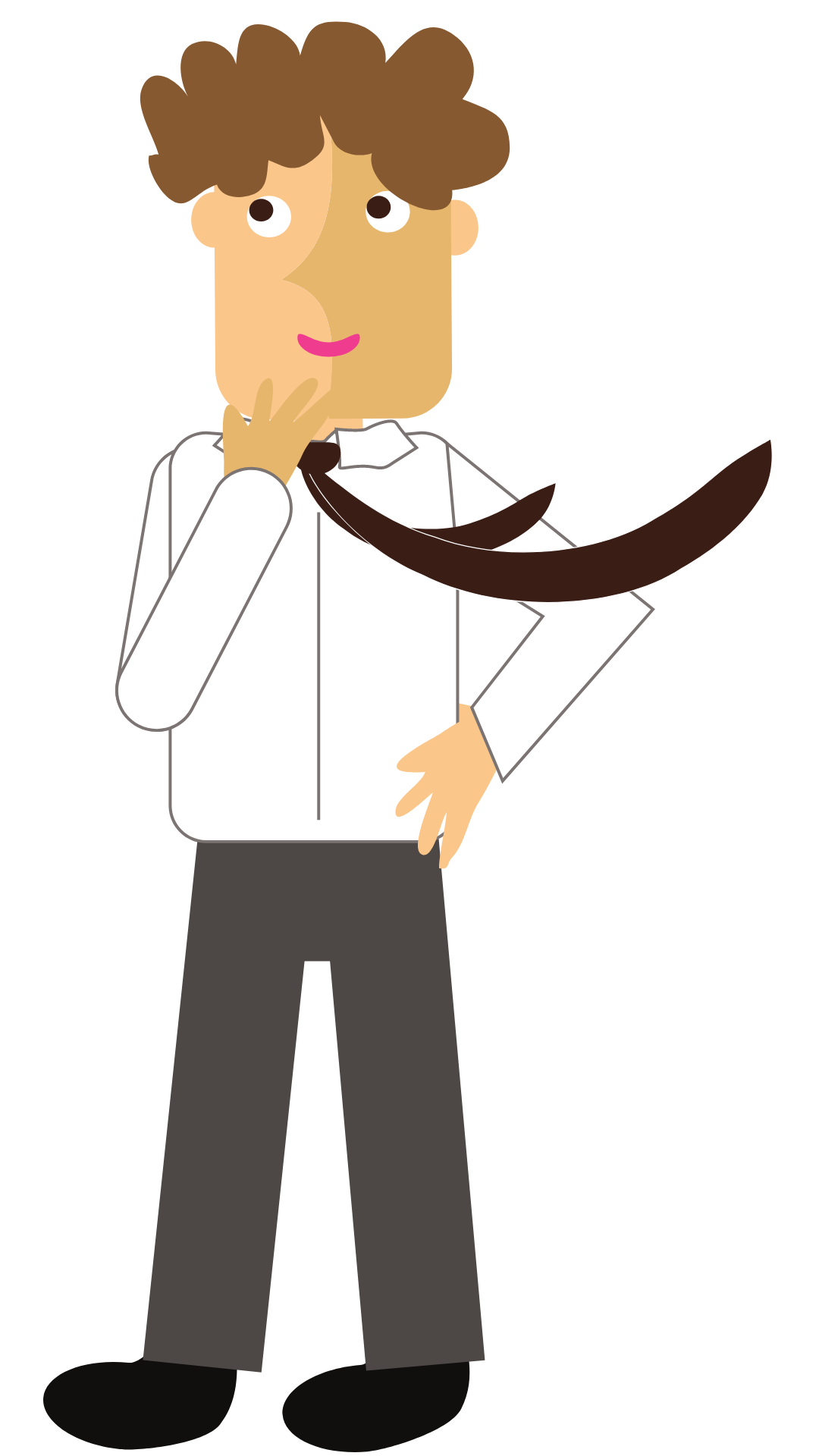 You want to speak English confidently!
You are already quite fluent in English, but you still make mistakes and you want speak more accurately and confidently? You are at the right place!
You are tired of textbook English!
You know English, but when you speak you sound like a textbook? In this course you'll learn ONLY the expressions and phrasal verbs that are used by native speakers!
Choose your course
Intermediate to Advanced
Start date: December 18th
This course is designed for the following levels:
Pre-intermediate (A2)

Intermediate (B1)

Upper-intermediate (B2)
Advanced to High-Advanced
Start date: December 18th
This course is designed for the following levels:
Pre-advanced (B2+)

Advanced (C1)
I see the major strength of this course in diversity of tasks to practice. Also I like that even in common topics I learned new words and tips. Furthermore it was really easy to contact my curator or teacher with all the questions. I had no feeling of being on my own with my problems during the course.
Irina, Poland

I think the major strength is the content of the class. Compared to the previous courses that I took, it focuses on speaking rather than learning vocabulary and grammar. I wanted to get a lot of opportunities to practice and enhance my speaking skill, so I'm happy about it.
Miyu, japan

Strengths of the course are quality videos from Veronica (structure, sequence) and Friday meetings in the question/answer format; quick answers from Kristina (students coordinator) in the general chat; interesting learning and grammar practice in the format of a game; highly qualified teachers!
Anna, Russia

The major strengths were the material's quality. I mean the course offered a lot of advanced vocabulary which helped to sound like a native speaker.
The course also added excellent subjects about grammar, moreover the explanation about where, when, how as well as why use them was really great, it helped to improve the level of understanding, analyzing and comprehension in English
Luis, Mexico

Veronika's video lessons are really amazing! Constant help and support from Kristina on Telegram: always present even on Sundays! Possibility of studying on your own, according to your life schedule. Big amount of speaking lessons (premium package). This course looks more like an experience than a simple course. I really appreciated it!
Miriam, Italy

Speak English like a CEO!
Pronunciation Club
Easy and effective
If you want to improve your pronunciation by practicing 10-15 minutes a day, this is the way!
Exclusive content
Weekly video and audio lessons, interactive exercises developed by Veronika and her team.
Powerful strategy
All lessons and activities have been tested on hundreds of Veronika's students and proved to be effective!
Frequently asked questions
What is the course like? Tell me more about it!
The curriculum of this course is built in a way that in every section you will have at least one grammar lesson and at least one vocabulary lesson and the topics will be very closely connected. And this way you will not only expand your vocabulary, but also speak in a more grammatically correct way. Each course contains 20 sections (40 lessons): 5 pre-work sections that will be available to you right after you book the course and 15 main sections. When the course starts, you'll have 2 sections open every week. The standard package students can enjoy the lessons at their own pace and those who have the Premium or the VIP package cover them before their speaking classes with a teacher. All the students are welcome to take part in weekly Q&A sessions with Veronika on Zoom.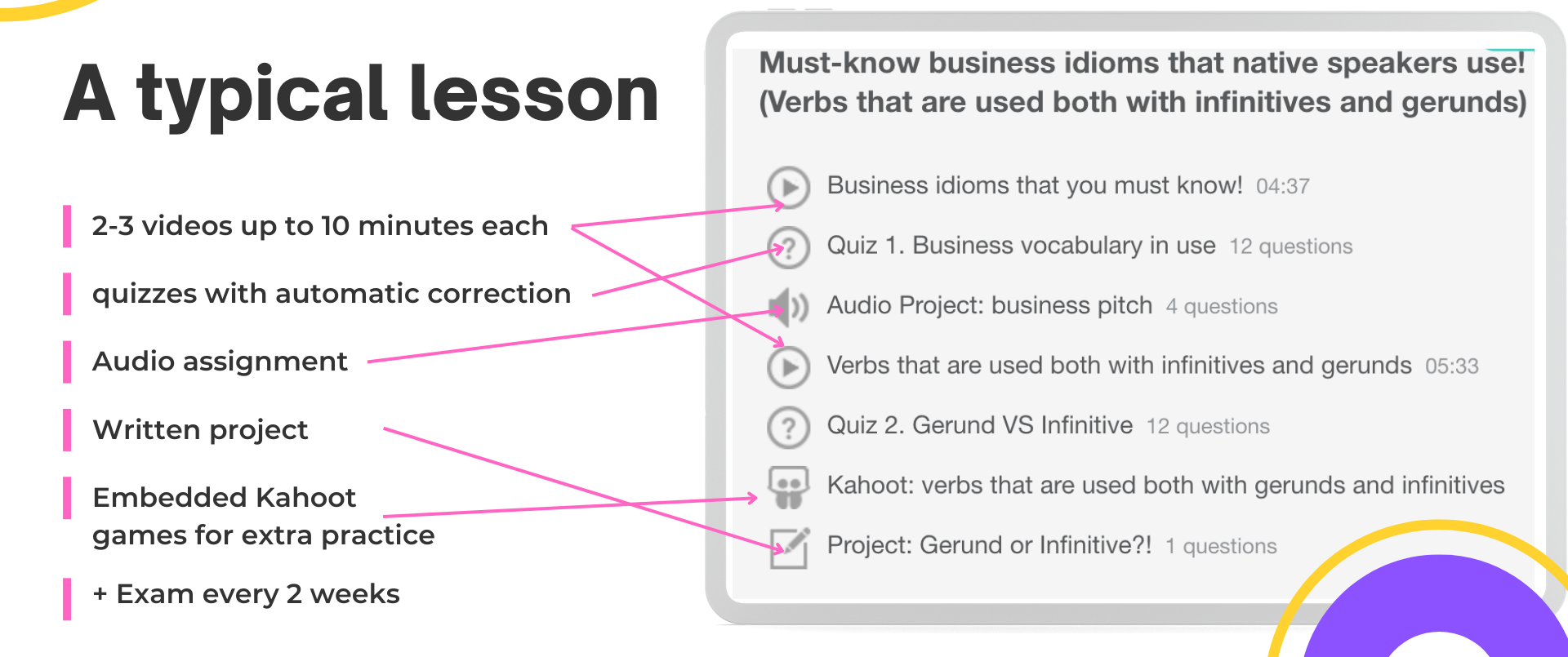 Will I be able to work on my speaking and writing skills?
Yes! Every section contains either written projects or speaking assignments that are checked by your curators (Standard package) or teachers (Premium, VIP packages). The Premium package students can also benefit from 90-minute speaking classes 2 times a week with TESOL Canada certified teachers. The VIP package students will have 90-minute speaking classes 2 times a week with Veronika!
How can I join speaking sessions if I live in a different time zone?
If you book our Premium package, you'll have 90-minute speaking classes 2 times a week with a TESOL Canada certified English teacher, so you'll have to pick your time slot.
We have hundreds of student from all over the world so we try to give you as many time slots as possible although all our teachers are based in Canada. Right after you book your spot, we'll send you all the available time slots via email and you'll pick the one that works for you best.
If you'd like to know the Premium package time slots before you book your spot, please contact our Learning Coordination Center to learn about the available time slots for the speaking classes at
[email protected]

.
In the VIP package, the schedule will be very flexible and you'll pick it together with Veronika and other students. Since it will be just a small group (3-5 students only), finding a time slot is not going to be a problem.
Are the prices in Canadian dollars or in American dollars? How much are they in my currency?
All the prices on the website are given in
American dollars (USD)
. To convert them, please use this tool
https://www.xe.com
What if I book the Premium or VIP package and the time slots don't work for me?
In this case we'll have 4 suggestions for you:
1. Upgrade your Premium package to the VIP one because VIP students choose the time for their classes themselves. Since there is a limited number of people (up to 5-7) it's easier to pick the time that will suit everyone.
2. Downgrade your Premium/ VIP package to Standard: there are no speaking classes in the Standard package but you'll still have a chance to join weekly Q&A sessions with Veronika!
3. Have a full refund within 3-5 business days.
4. Deposit the money you paid for this course to join the next cohort (new cohort = new time for speaking classes). We launch new cohorts approximately once in 2 months, meanwhile you'll be able to enjoy 5 Pre work sections or join other courses we offer.
I want to be Veronika's student, what should I do?
You're more than welcome to join Veronika's speaking classes by booking the VIP package!
You will have a chance to talk to Veronika in the Standard and Premium package as well, during your weekly Q&A (questions and answers) sessions!
Q&A sessions are different from speaking classes though. During the Q&A sessions all students from the course will be asking questions, and Veronika will answer them.

During your speaking classes, you will work on your fluency, improve your speaking skills and get individual feedback from Veronika.
If I didn't finish my course on time, can I extend it?
In order to extend the course, you need to reach out to us at
[email protected]
. The course extension fees: $30 - one extra month; $50 - 2 extra months of excess.
Important!
There's no way to extend speaking classes in the Premium and VIP packages.
Although we understand that there are moments in life that prevent you from keeping up with the course, we encourage you to follow the course's schedule and not fall behind.
What happens if I miss my speaking classes in the Premium/ VIP package or a Q&A session?
If you miss your speaking classes in the Premium/ VIP package or a Q&A session, you will be provided with the video recording of those lessons and you'll be able to catch up on the material you've missed. Generally, we don't recommend skipping classes as this will slow down your progress.
What time are the Q&A sessions with Veronika?
The Q&A sessions take place on Fridays, the exact time will be chosen after the course start. We launch a poll and ask all students to pick the time slot that works best for them. Then, we pick the most popular time slot. If that time slot doesn't work for you, you'll get video recordings. You can forward your questions for Veronika via your curator and watch Veronika answering them in the recording afterwards.
What if I join the course and I find out that it's too easy or difficult?
You can: 1) move to the Advanced/ Intermediate course (ask the support team or your curator) 2) get a full refund.
Important! The refunds are processed only during the first week of the course. If you change your mind on the second, third week and so on, you won't be able to request a refund.
Do I need to have a laptop to study in this course?
We recommend using a laptop, but a phone would also work.
What is the difference between Q&A sessions and speaking classes?
Q&A sessions (1 hour, on Fridays) are the meetings where all students from the course come together and ask Veronika questions about the course material. During your speaking classes (1,5h, 2 times a week in a group of 5-10 students) you're going to work on your fluency, improve your speaking skills and get individual feedback from your teacher.
Are the speaking activities different in different speaking groups?
Every teacher has their unique toolbox for maximizing your speaking progress. While the speaking activities will be different, the topics and the content will repeat what you learn on the platform.
Exclusive deal for Bootcamp students!
Take advantage of the best deal that we offer exclusively to our current and former students and book your spot now!
The number of spots is limited!

STANDARD555 ($209 $159)
PREMIUM555 ($409 $359)
VIP555 ($1199 $999)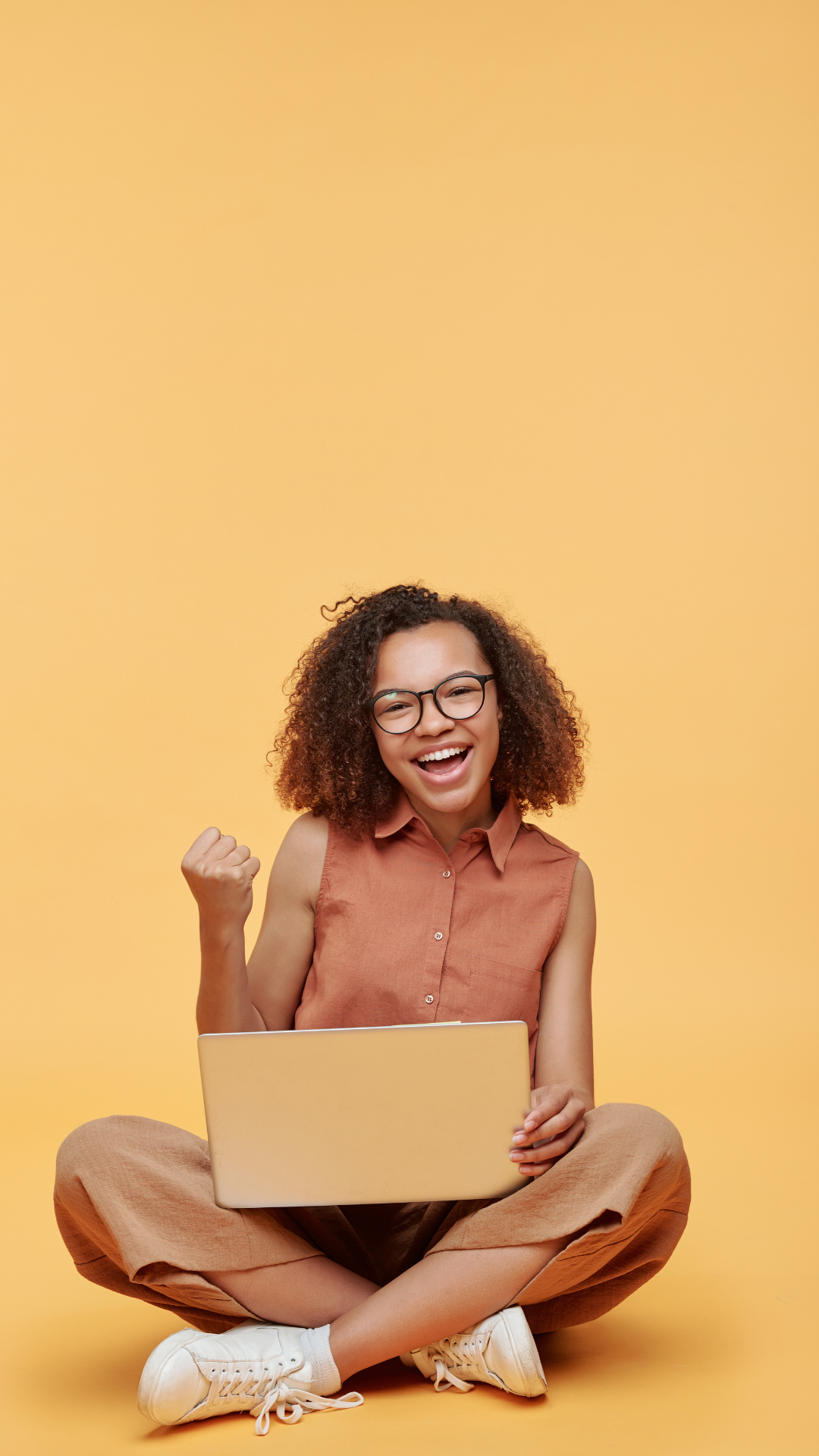 🔥 Prices for the December launch will go up in